Join The Burnout Recovery Challenge!
This competition has now closed.
Are you a Sophie Kinsella superfan? Want to get involved with spreading the word about her latest book, The Burnout, for a chance to be one of the first to read it?
Then sign up for The Burnout Recovery Challenge! 
In The Burnout Sasha's (well-intentioned yet slightly misguided) mum encourages her to download an app and follow the 20 steps to recover from her burnout. 
Inspired by the book, we'll be setting weekly challenges on a special Instagram page. Each week (for 10 weeks) you will receive a quote from the book, an "inspirational" message and a fun task to complete. And each week there will be a prize on offer for the funniest entry!
Tasks include: 
Wild Swimming (paddling pools permitted) 

Communing with Nature (looking at a bird will do) 

Getting creative (no artistic skill required)

#BookFace (recreate the book jacket!) 
And more! 

We have limited spaces on the private chat, so are looking for 200 superfans who will get really involved and embrace the challenge! 

If you think this is you, please complete the application form below by midnight on Wednesday 2nd August. 200 people will be selected to take part. 

The Burnout is out this October, and we can't wait to spread the word about it! 

Sign up here:
The Burnout Recovery Challenge
New book! The Burnout
I'm so pleased to share the UK cover for my brand new book, The Burnout!
It's all about Sasha, who hits a wall (quite literally!) and ends up going to recuperate from burnout at the Devon beach resort she loved as a child. However, the formerly grand hotel is a now a dilapidated shambles with comically bad staff (I loved writing them!) and the February weather is brutal. But even so, she's in blissful solitude on the deserted, windswept beach, getting her thoughts together; getting her strength back; trying to figure stuff out.
Until, guess what? I'm sure you can… A handsome, obnoxious guy turns up with his own issues – and to her annoyance she has to share the beach with him.
At first, their relationship switches from completely ignoring each other to sparring with each other, but then a series of mysterious messages left on the beach draws them together, and….
I won't give away any more right now. 
Find out more about the book here – it's out now!
Signed copies are available from Waterstones.com 🙂
What is your party persona? Take the quiz to find out!
Combining back to school fever with The Party Crasher celebrations, below is a quiz to find our your party persona! Which one are you?
QUESTIONS
At a party, you can be found:
Making sure the canapés get refilled. You don't want anyone to end up hungry!
Chatting up a new friend.
Off somewhere playing with the dog.
Your favorite party outfit is:
Something classic, like an A-line dress.
Anything with sequins.
Something comfortable, like jeans and a t-shirt.
When it comes to the guest list:
You're flexible. You invite your friends and some coworkers but make it known you're fine with them bringing guests. You don't want anyone to feel left out!
You invite everyone on your contacts list and a few people you bumped into on a pizza run. The more the merrier!
You keep it to just a few close friends.
Your ideal party type is:
An '80s theme night with DIY decorations.
A masquerade gala.
A slumber party.
You stay until:
People start trickling out and it feels like the night is winding down.
The sun comes up.
You've made an appearance and can sneak out without anyone judging you.
RESULTS
Mostly 1's: You're the: Host/Hostess with the Most/Mostest You love attending parties, but you like planning them even more! You're basically a walking Pinterest board, and your friends know that you're the one to turn to when they need help making an event extra special.
Mostly 2's: You're the: Life of the Party The party doesn't start until you walk in. You're bold, fierce, and not afraid to make an entrance. You own your confidence and liven up any group you're in.
Mostly 3's: You're the: Irish Exiter You're an introvert at heart whose ideal Friday night consists of takeout and reality TV. You enjoy yourself at small gatherings, but like Cinderella, by the time the clock strikes midnight, you're nowhere to be found.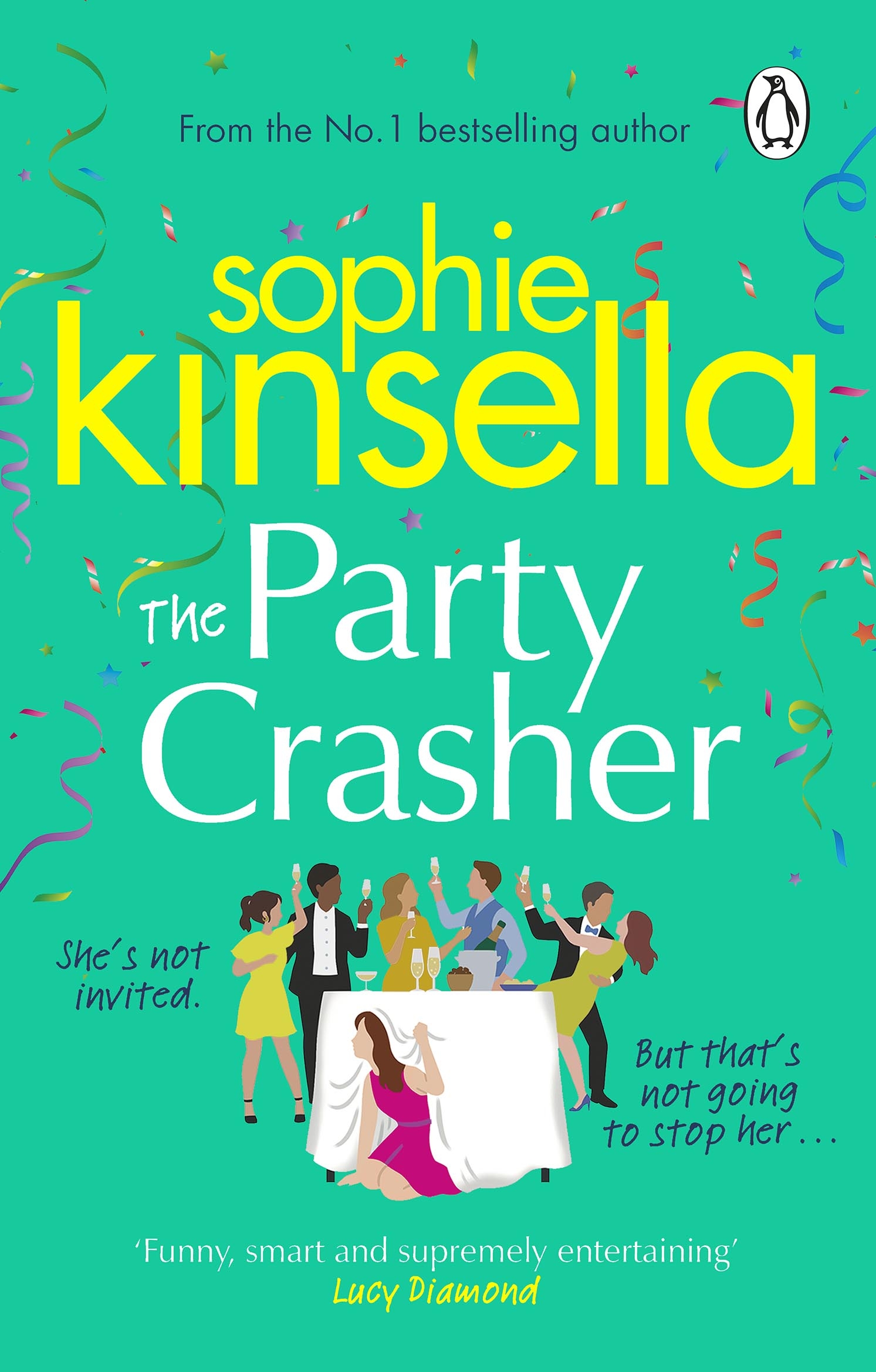 A brand new look!
My UK edition of The Party Crasher has a brand new look for summer 2022! You can pre-order your copy here. Effie isn't invited to the party – but that's not going to stop her!
Spooky pets!
I loved seeing your photos of pets dressed up for Halloween over on my Facebook page.
I'm sure you'll agree that my own Hestia made a fantastic witch.
Thank you for sharing your photos, they really cheered me up!
Follow me on Facebook for more photos from readers, competitions, book extracts and more!
Sophie xox
(UK) Win a £1,000 Diamond pendant and earring set
For those looking for a little autumn sparkle, my UK publisher has teamed up with Ernest Jones to run a competition to win a signed copy of Love Your Life and a diamond pendant and earring set worth £1,000!
PLUS until Thursday 5th November, my readers can get 20% off diamond jewellery at Ernest Jones by using code LOVEYOURLIFE*
*T&Cs apply: www.ernestjones.co.uk/webstore/static/customerservice/terms_and_conditions.do#loveyourlife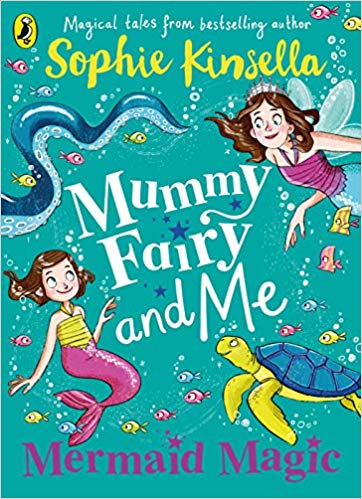 Extract: Mummy Fairy: Mermaid Magic
In Mermaid Magic, my fourth Mummy Fairy book (the series is called Fairy Mom in the US and Canada), Mummy Fairy and Ella decorate the kitchen with magic colouring pencils, catch a robber on Ella's school trip – and swim with real mermaids!
Find out more about the book by clicking the image below.
Lockdown Diary Part 2: Shopdown
Back by popular demand! I hope everyone is OK, sending out lots of love from me and from Becky….xxx
Becky's Lockdown Diary Part 2: Shopdown
8 am OK. Don't panic. Another day of lockdown. No problem. Bring it on!
8.15 am Luke says, 'Are you OK?' and I say bravely 'Of course I am!' Then a moment later I whimper, 'No! I'm not! I'm so rubbish at this!'
8.20 am Luke tells me yet again it wasn't my fault that the supermarket ran out of Easter eggs. And that the chocolate delivery company made a 'substitution' to my Easter egg order. And that I didn't check it in time.
9 am Anyway. It's all fine. Time for half an hour of exercise with Joe Wicks. No-one can feel down when they're watching Joe Wicks!
9.10 am Suze texts: 'Bex! Only just got your message! Of course I have spare Easter eggs, but too late now? What happened?'
9.15 am Text Suze: 'Oh all fine, no worries!!'
9.30 am I'm not admitting I didn't realise until too late that instead of 'Kitkat' and 'Malteser' eggs, the chocolate company sent two 'Adult' eggs with erotic pictures piped in white chocolate icing. (I mean, they looked fine once I'd hastily scraped them a bit. I told Minnie it was a drawing of an Easter chick.)
10 am I'm secretly in love with Joe Wicks. The way he bravely exercises with a broken arm and shouts out to all the children and does 'spot the difference' in the background of his exercise videos. It's genius!
10.30 am Change from exercise outfit into gorgeous flowing leopard-print skirt and clashing tiger-print cardigan. Even though it's lockdown and there's no-one to see, I can still be stylish. Exactly. (Might text a photo of my outfit to Suze later).
11 am Ooh! Have a great idea and hurry into Luke's office to tell him. Suggest he could do 'spot the difference' in his Teams meetings. He could add a vase or a book and everyone has to spot it! Luke says, 'Maybe' in a discouraging voice. Feel he isn't entering into the SPIRIT of lockdown. Then he looks up, sees my outfit and adds, 'Oh hi, Carole Baskin.'
11.30 am I do NOT look like Carole Baskin!! (I've changed my cardigan though.)
12 noon Gail from school WhatsApps: 'Everyone's going to record a line of "I wandered lonely as a cloud" and they'll all join together to make one big poem!'
12.10 pm You see? That's the spirit of lockdown. Collaboration. Connecting. Being purposeful. One big lockdown family.
12.20 pm As I'm trying to work out how to record a line of poetry on my phone, Mary from Pilates texts: 'Everyone's got to take a picture of their knees and send it in to make a Lockdown Knee Collage!'
12.30 pm Take a photo of my knees.
12.31 pm No. I'm not sending that photo anywhere.
2.00 pm Minnie says, 'What can I do now?' and I say 'Colour in,' automatically.
2.15 pm Oh God. Minnie's coloured in all the colouring-in books. Even the freebie from the petrol station.
2.20 pm What do I do now? What?? This is a genuine emergency.
2.25 pm Colouring-in books are definitely an essential, I don't care what anyone says.
2.30 pm Mum calls me on zoom: 'Becky, love! Be careful! I just heard from Sheila across the road that you're not allowed to look out of the window! If you do, a police drone comes and buzzes in your face!'
2.40 pm That can't be true.
2.41 pm Shall I just Google it?
2.45 pm Googling 'police drone window' when I get a WhatsApp from Janice: 'I've just read that you can cure the virus with maple syrup!' What??? Noooo.
3 pm Composing reply to Janice when Jess sends a text. It's a recipe for 'Vegetable stew' using carrot peelings, potato peelings and 'old lettuce'.
3.05 pm Send her back a 'Yummy!' emoji.
3.10 pm Note to self: NEVER zoom with Jess in the kitchen where she may see fishfinger packets/emergency chocolate/bottle of Baileys.
3.30 pm Put on TV for Minnie and log onto children's stationery supplies website. It's like wandering through a sad, empty desert with only the odd poignant flower, valiantly blooming. 'Out of stock'. 'Out of stock'. 'Out of stock'. The only thing in stock is glitter.
4 pm Order a bumper pack of glitter. I'll just have to hide it from Jess.
4.15 pm Pop onto Net a Porter, because it would be rude not to while I'm here. But the 'distribution center is temporarily closed'.
5 pm Is there ANYWHERE still left to shop?
5.30 pm Ooh! I found a hair accessories site!  Hair accessories are definitely essentials, because how are we all supposed to look after our hair without any hairdressers? Exactly. A beaded hairband is both essential and on-trend.
5.35 pm Oh. Delivery expected in three months' time.
5.40 pm Luke comes by and I say plaintively, 'Luke, when do you think shopdown will end?' He just looks at me and says, '"Shopdown" or "Lockdown"?' Oops. That's what I meant.
6 pm WhatsApp from Suze: 'Bex! I'm in the most brilliant Lockdown Crochet Challenge, you just have to crochet a London landmark, do you want to join in?'
6.10 pm Crochet a London landmark??
6.30 pm No. I don't want to do that. I want a glass of Baileys and some Easter egg. And I've changed my mind about being 'connected' and 'purposeful'. Sod that. Can't my Lockdown Challenge be just: getting through Lockdown?